Events Schedule
---
Cover: Asher Brown Durand, Study from Nature, Stratton Notch, Vermont, 1857. Collection of The New-York Historical Society
Full Title: Dr. John Durand (1664-1727) of Derby, Connecticut: His Family Through Four Generations, Featuring the Branch of His Youngest Son, Ebenezer Durand, Through Ten Generations to 2003
---
22 November 2004: Author to give Durand book talk at Derby Historical Society meeting, at the Grassy Hill Lodge, 77 Sodum Lane, East Derby CT, 5-7pm.
20 May 2004: Author to receive NGS (National Genealogical Society) book award, Sacramento CA, annual conference and banquet. [See Durand homepage].
15 May 2004: Author receives CSG (Connecticut Society of Genealogists, Inc.) grand prize book award, Berlin CT, annual meeting and luncheon. [See Durand homepage]. (Shares award)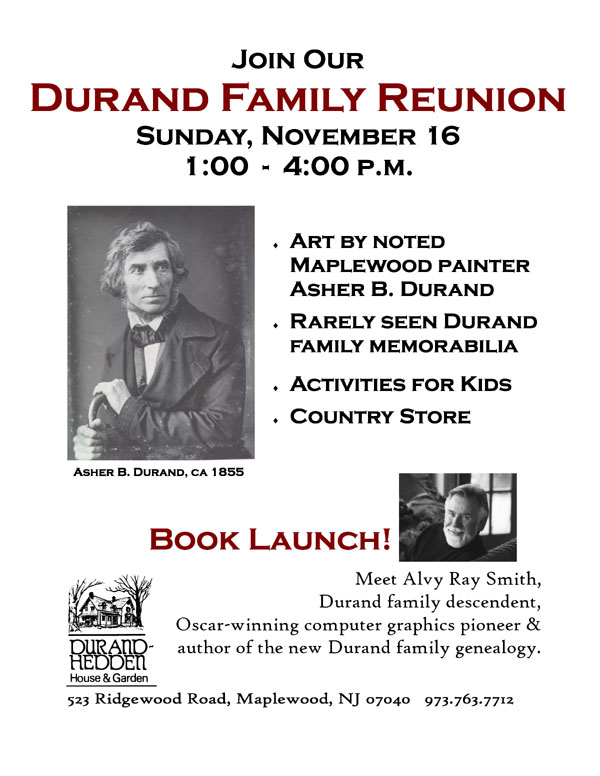 Download full-resolution poster
Download Durand-Hedden newsletter
16 November 2003

Durand-Hedden House & Garden

featuring the home and artifacts

of

John, Cyrus, and Asher Brown Durand

Hear author

speak on his new Durand genealogy

with book signing afterward

Maplewood, New Jersey

1-4 pm
16 November 2003: Author spoke on the Durands and signed copies of his book at the Durand-Hedden House museum devoted to the Durand family of Maplewood, New Jersey. Several Durand descendants were in attendance.
Also
27 October 2003: Author spoke on his Durand genealogy book at NEHGS Board of Trustees meeting, Boston, MA.
Also
Associated papers
Indiana Descendants of Dr. John Durand, 1664-1727: Excerpts from Dr. John Durand of Derby, Connecticut, and His Family, Part 1: Samuel and Son Orson, paper, part 1 published, The Hoosier Genealogist, 5 pages, Spring 2003, 43[2003]: 59-62 (plus cover); Part 2: Orson Durand's Children, paper, part 2 published, The Hoosier Genealogist, 4 pages, Summer 2003, 43[2003]: 127-30
ABSTRACT. This two-part sequence of articles concentrates on the descendants of Dr. John Durand who found their way to Indiana and influenced Indiana genealogy.
And
How I Was Inspired to Publish a Family History: the Durands of Colonial Connecticut, paper, to be published, New England Ancestor, holiday issue 2003
ABSTRACT. This article summarizes the various motivations that inspired me to write the Durand genealogy book.