Genesis Demo
Star Trek II: The Wrath of Khan
Lucasfilm Computer Graphics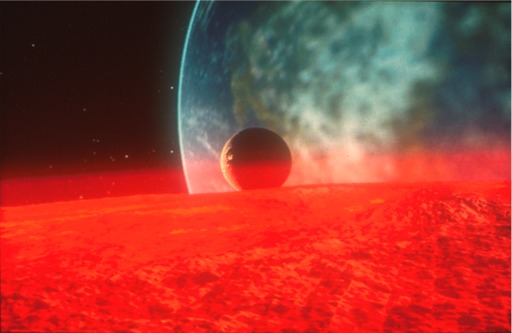 ©1982, Alvy Ray Smith, All Rights Reserved.
NB. This frame is not actually in the Genesis Demo, but was composed by me from elements used in the shot.
My first time on the big screen was as director of the so-called Genesis Demo sequence in Star Trek II: The Wrath of Khan (Paramount, 1982). I storyboarded the piece and directed it. Loren Carpenter did the fractal mountains and star field among many other contributions, Bill Reeves utilized his particle systems for the fires. Tom Duff created the cratered moon surface. Chris Evans painted the texture for the earthlike planet on Tom Porter's paint program. Many others contributed to this piece and to its sister, the Retina ID sequence in the same movie. The full details of the production, giving full credits, is recorded in my article Special Effects for Star Trek II: The Genesis Demo, Instant Evolution with Computer Graphics. The story leading up to the production - and how we used it to teach George Lucas about computer graphics - is told in my history article George Lucas Discovers Computer Graphics.
This frame is not actually in the Genesis Demo. It is a composition of elements used in it, however: melted fractal planet, cratered moon, earthlike planet, starfield, atmosphere. My "art" here is an example of what I call "composing" because I have generated a creation using elements created by others (see list of them above).
Also used in Star Trek III: The Search for Spock and StarTrek IV: The Voyage Home. Excerpted in Reebok television commercials during Super Bowl, January 1993, Winter Olympics, February 1994, World Cup, July 1994, and many other times. My big-screen debut.
Created at Lucasfilm Ltd in Marin County, California, in 1982.
Here is a sampler of frames from the Genesis Demo.
| | | |
| --- | --- | --- |
| | | |
NB: These are not to be used by anybody for any purpose. That's why I've put the "earmarks" on them.