mandarin.tut
Alvy Ray Smith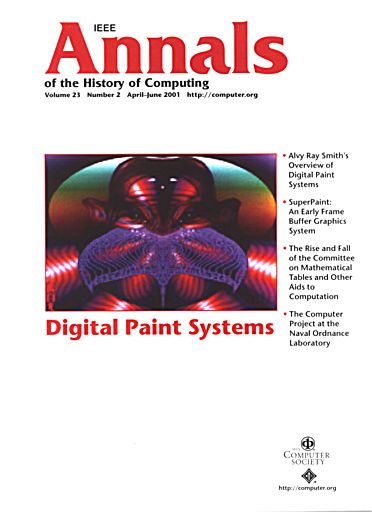 ©2001, IEEE, All Rights Reserved.
This is the cover of the April-June 2001 issue of the IEEE Annals of the History of Computing journal, in which I published a history of digital paint systems. It features a "painting" I created by combining elements from several other pieces and programs and then painting on the result using the 24-bit digital painting program I had written at NYIT, the first ever. Principally I used a painting by artist and colleague Paul Xander of a piece called king.tut. Paul painted this on the 8-bit version of my paint program. The face you see peering over the mustache is derived from Paul's painting - well, half of it anyway. I reflected that half face around the verical center line to make the whole face and intensity-mapped the result onto the radial array of sine-textured orange-colored cones you can see in the bottom half of the piece. All this occurred in 24-bit space which was still new to us all then. Notice that they also appear in the brow section of the modified face. The textured cones are themselves the repeated application of a program called fn that made pictures of mathematical functions, a program written by Tom Duff. Several of these mathematical pictures were mapped onto one another to make the textures cones. The slanted ellipse behind the face is another application of this same program. The intense glossy look comes from the intensity mapping tricks and did not appear in the original painting at all. Then I took the beak of an eagle that I had earlier painted, using the 24-bit paint program, replicated it about the vertical center line making the moustache, and then composited the result on the highly modified face. I thought he looked like a Chinese mandarin in an oval hat, hence mandarin.tut. (Use of the dot in names was highly unusual at this early date.) Notice that I have signed the piece in the lower lefthand corner with my chop.
Created at the New York Institute of Technology at Old Westbury, Long Island, sometime between Oct 1978, when I went to China, and Oct 1979, when I left NYIT. See also early art.