Leo Riggs His Book
PUBLISHED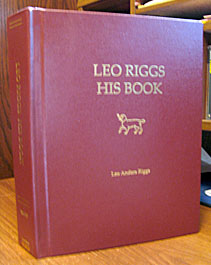 ---
Leo Anders Riggs hoped to publish his tome on the extensive Riggs family (descending from the immigrant Edward Riggs of Roxbury, Mass.) in 2001, the 100th anniversary of the publication of the famous John H. Wallace genealogy of the same family. With an additional century, Leo's book of course would have much more detail and many corrections to make to Wallace's 1901 Riggs genealogy. Unfortunately Leo died just short of his goal, but he bequeathed to his brother Ted and sister Sandra the task of publishing his lifetime work. They are happy to announce that Leo's desire has now been realized and this tremendous new resource for Riggs researchers is now available.
The book has 967 pages (668 pages of text and 224 pages of notes and references, plus an all-name index with birth-death years). It covers 16 generations of ancestors of Leo Anders Riggs, from 1530 to 2001.
You can now order Leo Riggs His Book by sending a check for $93.56 ($83.76 + $9.80 shipping) to:
Ted Riggs
18084 Township Highway 82
Forest OH 45843-9734
I've already ordered my copy. You should get one too!
---