Sunstone
Ed Emshwiller, Alvy Ray Smith, Lance Williams, Garland Stern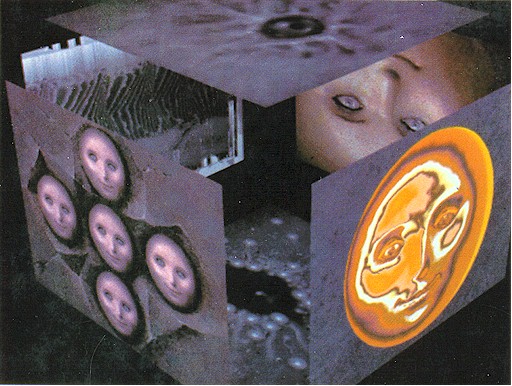 ©1979, Ed Emshwiller, All Rights Reserved.
NEWS! Sunstone has been restored. Park Seward of Grants Pass, Oregon, has lovingly rebuilt an Ampex 2-inch Quad videotape recorder. I supplied the Quad master of Sunstone. Park was able to reconstruct the original from what was scraped (almost literally) from the deteriorating master. See details of this story here. This is an introduction I wrote for Corky Siegel's theatrical presentation of a new soundtrack for Sunstone at the Acorn Theater in Three Oaks, Michigan, in 2012. Cork is a Chicago blues musician.
Exhibited many places including SIGGRAPH 79 in Chicago, New York's WNET television show Video/Film Review, 1979, and the Mill Valley Film Festival, Mill Valley, California, 1981. In the video collection of the Museum of Modern Art, New York.
Ed was an abstract expressionist when young, then did early avant-garde 16mm filmmaking, then became one of the earliest video artists. He also made a name for himself in the 1950s illustrating the covers of early science fiction magazines (which he signed "Emsh"). I knew of him because he lived near NYIT on Long Island, in Levittown. I expected that if he were the artist I thought he was - out on the edges of the culture exploring - he would show up at our lab one day. He did, of course. His proposal to us, that he use his new Guggenheim grant, to make a 3-hour computer graphics movie, sent us into gales of laughter, much to his consternation (after all, he was trying to talk his way into our facility). We explained that he would be lucky, in his 6-month timeframe, to make a 3-minute film, considering the state of the technology. Sunstone is that piece, and it is a little more than 3 mintues long, including a live (digitally processed) video section.
This collaboration was the most important of my artistic life, Ed serving as my mentor. And I am still most pleased with this computer graphic work over all others I have been involved in with partners. We used one frame from the video as the cover of a very well-known computer graphics text by Foley and van Dam.
Created at NYIT in Old Westbury, Long Island, in 1979.
Here is a photo of Emsh and me at work on Sunstone at NYIT in 1979:
©1979, Ed Emshwiller, All Rights Reserved.
The Sunstone "face" is floating off the monitor, which we thought pretty well captured the nature and state of mind of our collaboration. Actually this was a double exposure with the lights on for us and the equipment, then with lights off for the monitor display. One of us accidentally kicked the tripod between exposures.