Photofinish at the Brickyard
Alvy Ray Smith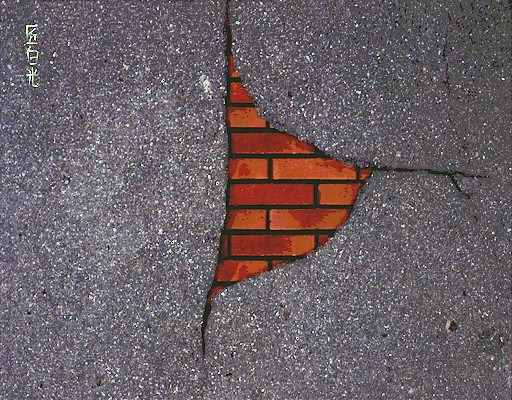 ©1991, Alvy Ray Smith, All Rights Reserved.
An investigation into the role of the artist. I used two photographs by my friend and colleague David DiFrancesco of Pixar. I modified probably less than 10% of all the pixels (cutting a hole in the asphalt picture to reveal the brick texture, retouching the edges of the hole to make it appear torn). Yet I feel that this piece is entirely "mine": I created the concept. I obtained the artwork components. I did the composite and retouch. I signed my name (the chop). I do however feel obligated to list the artists whose work I used (in this case, just David). This is an example of what I call a "one-frame movie": I am its editor and director; David is its cinematographer.
Created at Pixar in 1991.